Paella cooking school in Mallorca
The 1st Paella Cooking School in the Balearic Islands.
Learn and cook your very own artisan paella yourself.
A real cooking experience
Do you want to have fun? Do you want to go through a REAL EXPERIENCE? Then you are in the right place. You cook your own paella: you peal, you cut, you dice, you stir-fry… You will work on all the steps with your own hands. In addition, you will learn first-hand the history of paella, the necessary ingredients and how to choose the freshest ones, prepare the stock from scratch … Everything to make the best paella. It is YOU doing all the processes with your own hands. But don't worry! The Paella Master from Valencia, Guillermo Bermell, will guide you with easy explanations through the steps into which the course has been condensed. Cook and savor a full menu and learn tricks from the greatest chefs to excel with your paella.
What does the paella cooking course consist on?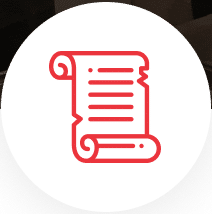 It is time for you to know the true history of paella. You will discover all the curiosities about this dish and even how it has come to have its own emoji.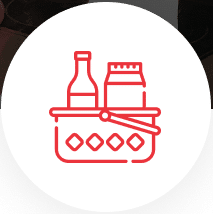 Much of the success of a paella depends on the ingredients and its freshness. You will get to know them one by one and I will teach you to differentiate the best ones for our dish.
You will learn to cut, prepare and cook the ingredients in the most appropriate way. Meanwhile, I will explain more secrets about the traditions around paella.
The paella master will guide you through the elaboration process and will reveal his best tricks. And finally! It's time to taste your paella in a pleasant meal.
Choose between 3 types of paellas
Valencian Paella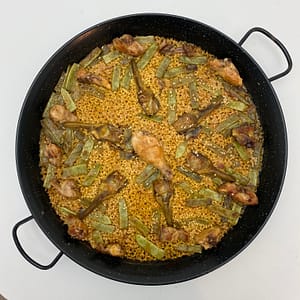 The original and traditional paella. Ingredients: chicken and rabbit meat, green flat beans, white broad beans (butter beans), tomato, virgin extra olive oil, salt, saffron, water, rosemarie, red dried sweet ground pepper, garlic and rice.
Seafood Paella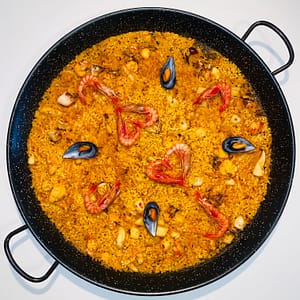 The most popular one worldwide. Ingredients: shrimps, monkfish, onions, tomatoes, sepia, squid, leek, rice, virgin extra olive oil, salt, red dried sweet ground pepper, saffron, mussels, water, onions and garlic.
Vegan Paella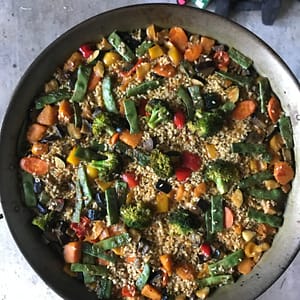 The "green" one. Ingredients: eggplant, tomatoes, green pepper, red pepper, yellow pepper, green asparagus, cauliflower, green flat beans, zucchini, carrot, white broad beans (butter beans), rice, red dried sweet ground smoky pepper, saffron, salt, virgin extra olive oil and vegan stock.
Follow these simple 4 steps

Where do you want to take the course? What kind of paella do you want to cook? How many people are going to participate? Give us all the details in the booking process.

2
Confirm your reservation
After confirming the reservation and making the payment, the preparations begin for your course. Remember to tell us allergies or preferences.

The most important day has arrived! Depending on where it is most comfortable for you to enjoy this magnificent experience, there are several possibilities.

You are the star and you are the one cooking and making all the steps to cook your own paella. Bon Appetite!
Depending on your preferences, PAELLA LOVER offers you different options to carry out your paella course. I want you to have the best possible experience at the place you feel better, so that you can be as comfortable as possible to learn at your own pace to be the best ambassador of this iconic dish in your country and with your own people.

3 Different possibilities
You are my guest at your home. I take care of cooking. You can smell, see, enjoy… You take all the advantages and I do the work. The service includes paella, bread, alioli and lemon. And if you want, you can add, drinks, starter, dessert and much more!
At the chef´s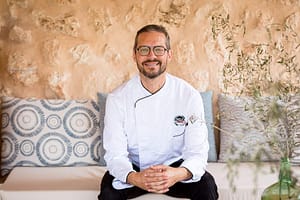 Vini, vidi, vinci.
I welcome you at my place, feel like at home. Up to 4 people. No additional charges.
At your place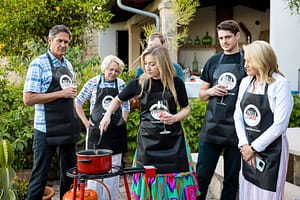 You play at home
I take all ingredients, utensils and gear necessary to make the experience possible at your house. From 4 people on wards, depending on the premises. Additional charges apply.
Local with prof. kitchen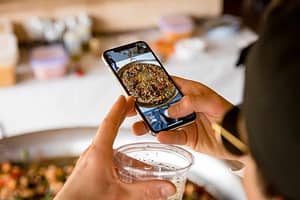 Excellence
Ideal for big groups of people or if you want to go a step further. There are 3 places in which the experience can take place in Palma de Mallorca: in Santa Catalina neighborhood; next to Cruz Roja (Red Cross building); or more exclusive place at a gastro-school in a high-class restaurant in Puerto Portals. Additional charges apply.
Do it Yourself
It is YOU doing all the processes with your own hands, so the experience is even more immersive. At the end, you will be astonished about the results: it will be one of the best paellas you have ever eaten…PREPARED BY YOU!!
Slow Food
The service is driven by the SLOW FOOD movement: you will be immersed in such a fantastic experience that you will simply love it! During the course we do not look at the clock, but rather enjoy time together as my grandparents were doing 50 years ago and showed me later. Thus, the knowledge remains in your memories and the connection is much greater. In the end, you will be surprised by the results: it will be one of the best paellas you have ever eaten.
Prepare and savor a full menu
The gathering involves as well savoring a welcome cocktail, a starter, drinks (white or red wine, beer, soft drinks and water) during the whole service, dessert, coffee and some more surprises!! 
At PAELLA LOVER, guest's satisfaction is the most important for us. With your help we grow, we improve our services and experiences so that you have greater satisfaction.
Wir waren in einem Chalet in Mallorca und hatten das Vergnügen, an einem einzigartigen Erlebnis teilzunehmen. Guillermo zeigte uns, wie man die beste Marisco-Paella zubereitet. Aber das war nicht alles! Er brachte uns auch bei, wie man köstliche Sangria und Crema Catalana zubereitet. Während des Erlebnisses erzählte er uns spannende Geschichten und interessante Fakten über die Paella. Seine Vorbereitung und sein Wissen waren beeindruckend. Dies war definitiv der Höhepunkt unseres Aufenthalts in Mallorca, und sogar auf 2 Sprachen da wir eine gemischte Gruppe waren! Ich würde es definitiv jedem empfehlen.
Perfekter Abend! Guillmo hat uns nicht nur eine hervorragende Paella gezaubert sondern einen ganz besonderen Abend beschert. Vielen Dank dafür!! 🥘🏝️
Wir haben Guillermo für eine Familienfeier engagiert und er hat es absolut bravourös gemacht. Von der Vorbesprechung bis zur Zubereitung vor Ort - es war einfach perfekt. Er hat uns gezeigt und erklärt, wie man eine klassische Paella zubereitet, ebenso wie weitere Variationen, wie z. B. die Fiedua (schwarze Paella mit Nudeln) und die Gäste durften mitschnibbeln und beim Zubereiten mithelfen, was super ankam. Guillermo hat alles mit seiner lockeren und netten Art abgerundet und die Paellas waren die besten, die wir bislang gegessen haben. Alles in allem eine absolute Empfehlung.
An amazingly authentic experience from a passionate chef !
Me encanta cocinar y tenía ganas de aprender de un buen maestro a elaborar una deliciosa y auténtica paella … ha sido una magnífica experiencia con el resultado de poder degustar un arroz que no encontrarías en ningún restaurante …. Muy recomendable y volvería a repetir ..! 👍👏🏻👏🏻👏🏻👏🏻👏🏻😊😊
Julian Neuhäusel
2023-09-07
Guillermo hat uns in unserem Haus für einen Paella Kurs besucht und wir können es nur wärmstens empfehlen! Guillermo hat für alles gesorgt und uns von der Historie bis zur Durchführung alles über Paellas beigebracht. Wir hatten sehr viel Spaß mit Guillermo, haben viel gelernt und freuen uns ab jetzt in der Lage zu sein, selber Paella zubereiten zu können. Großes Dankeschön an Guillermo!
Benjamin Kraus
2023-09-06
5/5 would recommend anytime! We had a great time with Guillermo, from planning the event to the live cooking which resulted in excellent seafood and vegan Paella 🥘 Super nice guy that prepares excellent food at the comfort of you own home!!
AMAZING experience! Our time with Guillermo was all around incredible and we cannot speak more highly of him. He shared his enthusiasm and passion for paella with us when he came to cook for our family and friends during our wedding rehearsal dinner. Everyone loved him and his paella, it was outstanding! It was by far the best paella we had while we were traveling in Spain. While cooking, he made the experience extra special as he took time to answer any questions we had about himself, paella, and Mallorca. This was one of our favorite memories of our Europe trip and we hope to come back and enjoy more of Guillermo's famous paellas!!
Jonathan Lourenco
2023-07-07
Guillermo was a pleasure to have come over and do what you can tell he genuinely loves. I'm sure all of his parllas are fantastic but we had the black paella (with squid ink). From 1-10? 12! Would recommend to anyone coming to Mallorca.
Singer Kapp Properties
2023-06-25
Guillermo was superb with my family - and teaching us, cooking with us , helping with our entire Mallorca experience
Valencian Paella
price per person*
Vegan Paella
price per person*
Seafood Paella
price per person*
All courses Include
In-depth explanations of all steps to cook your own paella
All utensils and ingredients to prepare all courses of the menu
Paella of your choice
Welcome cocktail, to choose: sangria or "Valencian water"
Starter to choose: steamed mussels or trampó salad
Gas bottle and gas burner
All drinks during the event: wines (red – Ribera del Duero or white – Albariño -), beer, soft drinks and water.
Lemon, bread and aioli
Dessert to choose: crema catalana
Coffee
More suprises!
Additional Charges
At your´s:
1-4 people: 50€
5-10 people: 100€
Over 50Km. from Palma: 50€
Professional kitchens:
Santa Catalina: 200€
Cruz Roja: 250€
Puerto Portals: 400€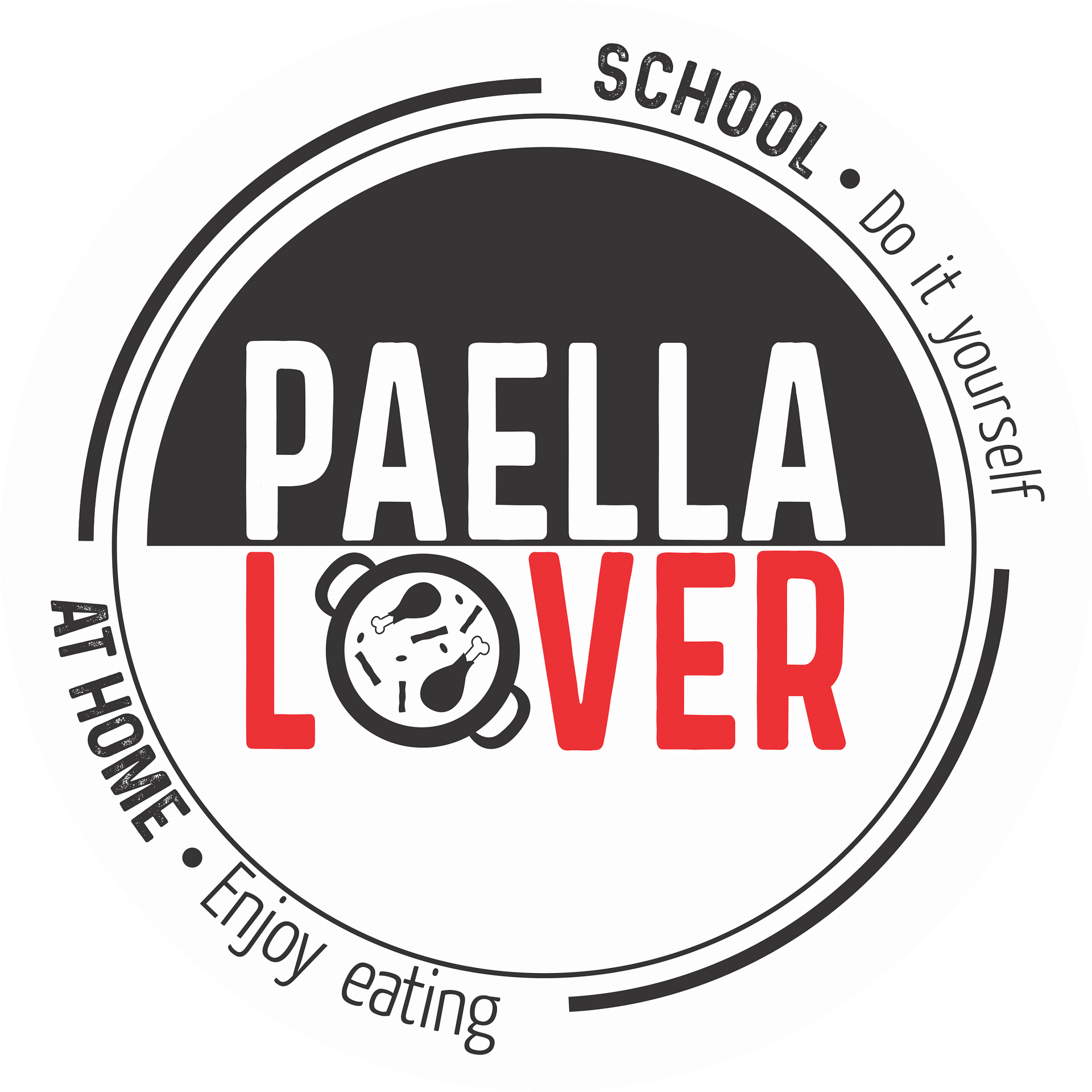 Savor the flavors of Spain with our exquisite paellas. We are dedicated to delivering the authentic taste of paella to your doorstep. Let us transport you to the sunny shores of Valencia with every bite. Contact us now to embark on a paella adventure like no other.